The Governor General's Performing Arts Awards (GGPAA) are Canada's foremost distinction for excellence in the performing arts. The awards recognize a stellar array of artists and arts volunteers for their outstanding contribution to culture in Canada and abroad.
The Governor General's Performing Arts Awards were Created in 1992 under the patronage of the Right Honourable Ramon John Hnatyshyn (1934-2002), then Governor General of Canada. Today, we are honoured to have His Excellency the Right Honourable David Johnston as our patron.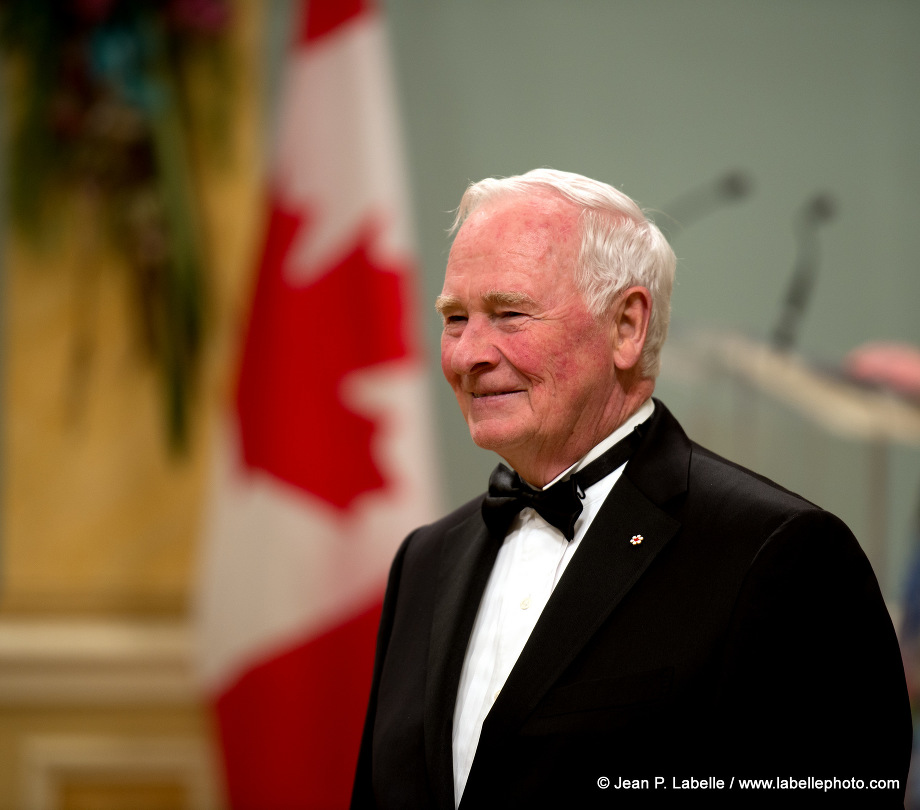 Michael Bublé
2017 National Arts Centre Award
A charismatic singer, talented songwriter and brilliant entertainer, Michael Bublé has become one of the pre-eminent music artists of his generation. Inspired by such classic singers as Frank Sinatra, Dean Martin and Tony Bennett, as well as modern artists (notably Bryan Adams and Harry Connick, Jr.), he includes jazz standards, adult contemporary pop songs and original material in his repertoire. His rich baritone voice, engaging humour and magnetic stage presence have made him one of the most sought-after performers in the world, and many of his recordings have achieved number one status in Canada and internationally.
Michael Bublé was born in Burnaby, B.C., in 1975. His grandfather introduced him to the music of the big band era at a young age. He knew then that he wanted to be a singer and that this style of music, almost unknown to his own generation, was what he wanted to perform.
While still in his teens, he won the Canadian Youth Talent Search, sang with various bands and released three independent albums. But success was slow in coming, largely because industry executives weren't sure how to market his particular style. "It teaches you: never quit, because you never know what's coming around the corner," he says.
In 2000, he signed his first major recording contract. His self-titled debut album was released three years later to worldwide commercial success, and earned him his first Juno Award. To date, he has released 9 studio albums, 3 live albums, 9 EPs, 17 singles, 14 music videos and 3 DVDs. He has toured in over 50 countries, sold 50 million records worldwide, and placed 4 consecutive albums in the number one spot on Billboard 200. His ninth studio album, Nobody But Me, was released in October 2016, and the title song and the single "I Believe in You" have received over 4.6 million and 6.5 million views respectively on YouTube.
Michael Bublé's awards and honours include 11 Junos, 4 Grammys, a Gemini for Best Performance or Host in a Variety Program or Series, a Canadian Screen Award, and 7 Smooth Jazz Awards. He is a recipient of the Queen Elizabeth II Diamond Jubilee Medal and was inducted into Canada's Walk of Fame in 2015.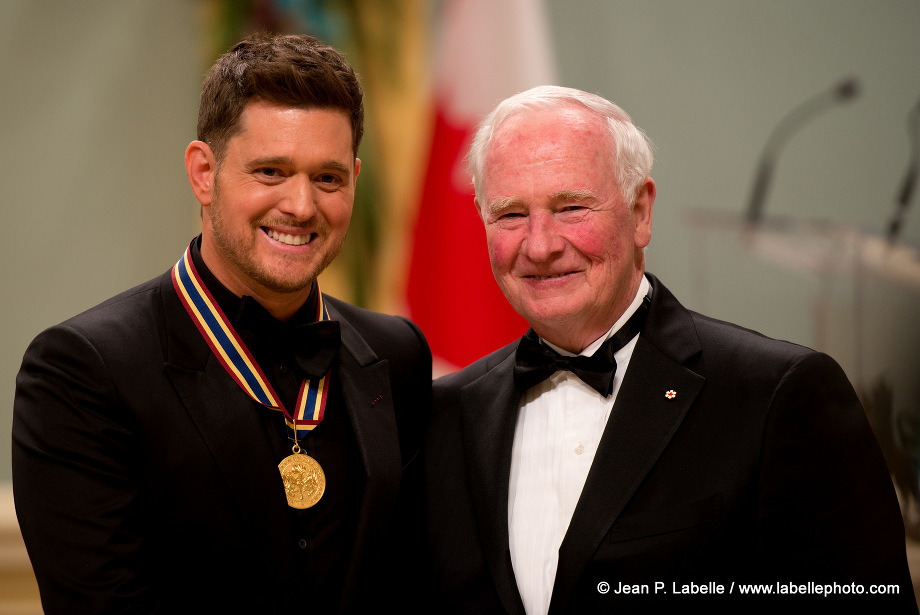 Michael J. Fox
2017 Lifetime Artistic Achievement Award (Broadcasting)
Michael J. Fox is a respected and accomplished screen actor, best known for his award-winning work in the television series Family Ties and Spin City and in the Back to the Future film trilogy. Diagnosed with Parkinson's disease in 1991, he founded the Michael J. Fox Foundation for Parkinson's Research in 2000. He has received numerous humanitarian awards and has become an outspoken and inspiring advocate for people living with Parkinson's.
Born in 1961 in Edmonton, Alberta, Mr. Fox was only 15 when he made his television debut in the CBC sitcom Leo and Me. Within a decade he was known to fans worldwide for his iconic portrayal of Alex P. Keaton in the popular NBC comedy series Family Ties (1982–89), for which he won three Emmys and a Golden Globe. He subsequently starred in the ABC series Spin City (1996–2000), winning another Emmy and three more Golden Globes. He also wrote, produced and starred in the NBC sitcom The Michael J. Fox Show (2013–14).
He found equal success on the big screen as the star of the hit film trilogy Back to the Future. Other film credits include the dramas Light of Day and Casualties of War, and comedies The Hard Way, Doc Hollywood, Life with Mikey, The American President, The Frighteners, and Mars Attacks! (alongside fellow GGPAA recipient Martin Short).
Mr. Fox has written three best-selling books: Lucky Man: A Memoir(2002), Always Looking Up: The Adventures of an Incurable Optimist (2008), and A Funny Thing Happened on the Way to the Future: Twists and Turns and Lessons Learned (2010).
In recent years Mr. Fox has achieved a special kind of recognition for his human and creative courage. He is acclaimed for his bold portrayal of characters with physical limitations (notably in the hit TV series Boston Legal, The Good Wife and Rescue Me), and for his dedicated support of Parkinson's research.
Michael J. Fox is an Officer of the Order of Canada. Among other distinctions, he has been inducted into Canada's Walk of Fame and the Hollywood Walk of Fame, and holds five honorary degrees. He was one of four Canadians honoured on the Difference Makers series of commemorative stamps issued by Canada Post in 2012.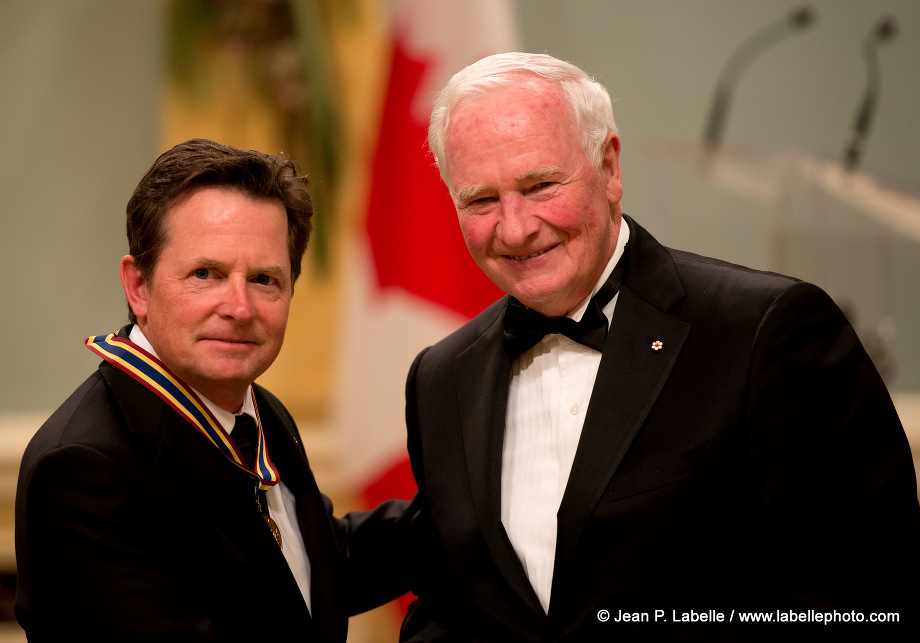 Martin Short
2017 Lifetime Artistic Achievement Award (Broadcasting)
Acclaimed stage and screen actor Martin Short is known for his wacky comedic characters and dead-on impressions, notably on SCTV and Saturday Night Live. In a career spanning over 40 years, he has delighted audiences across North America and beyond, and made laughter an important Canadian export.
Martin Short was born in 1950 in Hamilton, Ontario. After graduating from McMaster University with a degree in social work, he was cast in a 1972 production of Godspell, which launched his entertainment career. He joined The Second City improvisational theatre troupe and subsequently appeared in the TV series SCTV and Saturday Night Live, creating such memorable characters as obnoxious talk show host Jiminy Glick and the excitable, spiky-haired Ed Grimley.
He has starred in several comedies, including Three Amigos, Innerspace, Three Fugitives, Father of the Bride I and II, Mars Attacks! (alongside fellow GGPAA recipient Michael J. Fox), Clifford, and Inherent Vice.
On television, he hosted The Martin Short Show (1994, nominated for eight Emmy Awards), and co-hosted the NBC variety show Maya & Marty with Maya Rudolph. He wrote, produced and starred in three acclaimed comedy specials. He has appeared in guest roles on Law and Order: Special Victims Unit, Arrested Development, How I Met Your Mother, Weeds, and Mulaney, and played lawyer Leonard Winstone in the legal drama Damages.
Mr. Short has also appeared in several stage productions, including his autobiographical one-man show, Martin Short: Fame Becomes Me, on Broadway and on tour. He was nominated for a Tony Award for his Broadway debut in The Goodbye Girl, and won the Tony for Leading Actor in a Musical for the 1999 Broadway revival of Little Me.
He published his memoir, I Must Say: My Life as a Humble Comedy Legend, in 2014.
Among other honours, Martin Short is a Member of the Order of Canada and a recipient of the Queen Elizabeth II Golden and Diamond Jubilee medals. He was inducted into Canada's Walk of Fame in 2000, and was one of five Canadian comedians honoured on commemorative stamps issued by Canada Post in 2014.